Tae Keller Author visit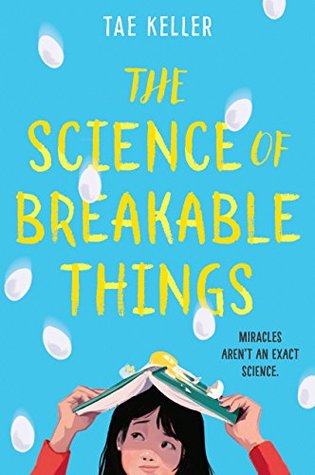 Hang on for a minute...we're trying to find some more stories you might like.
On March 23,  the sixth grade was lucky enough to have the author, Tae Keller, come to our school for an author visit. Her book, The Science of Breakable Things had only came out a couple weeks before, and already so many people knew about it and was quickly becoming popular. Ms. Keller told us about her childhood, about how she was always writing and creating stories in her spare time. We also learned about her crazy little sister, who she bribed with sugar cubes to do whatever it is she wanted. She talked about how some people discouraged her enough to make her stop writing altogether, and how she learned to fight against that and do what she truly loves: writing.
Tae Keller had not always wanted to be an author, at first she wanted to be a macaroni noodle.  As she grew up though, she realized she really, really loved to write. When she was in the sixth grade she was able to put a poem of hers in the  town newspaper. By getting her poem in the local news, everyone would have a chance to view it. Not just her classmates. She was super happy about this amazing accomplishment, but not everyone else was. Kids in her school said it was weird that she had something that she made in the newspaper. This is the event that made her want  to stop writing. For years she didn't write at all. But then one day she was looking through her seventh grade science notebooks and she had an idea for a story, a girl in science class dissecting a frog. Just a small idea which eventually grew into a story of its own.
The Science of Unbreakable Things was about a girl who had to come up with a scientific question for her science class. Along the way she struggled with her mother who has depression and won't talk to her. She has this idea that might cure her mother. But she can't do it alone. Her two friends, Twig and Dari, help Natalie fight her mother's depression. The Science Of Unbreakable Things is a heartwarming book that shows that you can overcome even depression itself as long as you have your friends by your side.
After Tae Keller told us how the story came to be, some curious students had some more questions for the author. Here are just a few.
Q: What was your favorite part of the story?
A: The part where they were about to learn whether Natalie and the others won the egg drop or not.
Q: If you could change anything about this book, what would it be?
A: Honestly I would change a lot about it, whenever I thought I was done I always went back to make it better. One day though, I knew I couldn't change it any more and I would have to send it to the publishers.
The sixth grade students all had an amazing time and were thankful for the chance to hear from this up and coming author.