COVID-19 and the Impact on Restaurants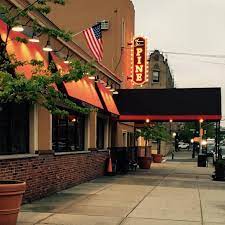 Business is booming? Or not.  COVID-19 very simply took the world by storm, no one man can stop the pandemic. In our very own town Covid killed business especially restaurants.  Restaurants have been part of the local culture forever, no food in the house wanna go out to eat…… let's go to a restaurant. Kid's birthday is today.. No problem let's go to a restaurant. Before Covid this was a reality there was no worry of being infected by a mysterious virus when people used to go out to eat but of course now there is. The CDC restrictions have been somewhat lifted but there are still many hoops to jump through for restaurant owners. 
The Bronx is full of different cultures, restaurants, people, interesting places, etc. One of the more famous restaurants is The Pines , The Pines opened its doors recently over the summer so they could start serving food again. One waiter said, "Our food is some of the best in New York but the government tells us we cannot have a full amount of people so barley anyone can try our amazing food". It is hard for waiters and waitresses to make money today and there are barely any people coming in and out of the restaurant. 
When one walks inside the restaurant and sees the New York Yankees memorabilia they may simply think that they are in heaven but as they get further into the restaurant they bump into a piece of plexiglass. That is just an example of one of the restrictions that restaurants like The Pines have to follow. Another example is the fact that they still have to set their tables 6ft apart from each other, this limits the number of customers that they can seat at once.While these restrictions are for everyone's safety  it is really hurting the business.
What does the staff think about all of this? While in the restaurant there are many staff members running around cleaning and sanitizing. It is very important that they do these jobs so the restaurant can stay open, one waitress said, "Yes we have to clean and sanitize but believe me it is worth it so we can stay open for business". Most people may think that these waiters, and waitresses are doing this while hating it at the same time but once inside the restaurant it is clear that they are doing all of these different things so that the restaurant that they work for and love can stay open. 
This is just one example of a restaurant that is struggling during these hard times. In reality there are tons of restaurants that are barely staying alive. Restaurants have closed, re opened, closed, opened, and then closed again. today it is one of the riskiest businesses in the United States. Governor Phil Murphy's most recent guidelines are as follows;  restaurants can operate with 50% capacity, All indoor and outdoor tables with seating for customers must be separated by a minimum of 6 ft. in all directions, wherever distancing is not feasible between tables, physical barriers must be enacted between such tables, and patrons must wear face coverings at all times, except while seated; provided that the patron is over the age of 2 and able to medically tolerate such covering. As one can see the guidelines can be very limiting to certain establishments. 
So many different people have been affected by the pandemic it's hard for people to focus on just one aspect of the world being affected. The restaurant business cannot simply take the front stage because they are simply not the biggest priority. NYC restaurants are flooding instagram and other social media. While there may be many components to the issues with restaurants right now limited staff is certainly one of them.  No one person has had the same experience in the pandemic but it is clear that things need to change for everyone. There is not one simple way to solve all of these problems but the fact is that people need help, there needs to be change. 
 There are only so many ways for restaurants to stay in business normally but when we add COVID into the mix it is almost impossible for the smaller restaurants to stay open. Restaurants like The Pines are lucky enough to have a fair amount of customers and recognition from the public. The rough part is that not all restaurants are restaurants like The Pines and some of them are struggling to the point where they have to close. 
There are few different things people can to help restaurants, people can purchase restaurant gift cards, Use delivery services that specialize in local restaurant catering, donate to a cause supported by the establishment, buy some merchandise, and Write positive reviews and engage with restaurants on social media. These are only a few ways to support local restaurants during Covid and everyone can help. 
Everyone wants to get rid of this horrendous virus and get back on with our lives.  More than 110,000 restaurants, and bars have closed due to Covid. It should come as no surprise then that many restaurants were forced to shutter in 2020, but the numbers are still shocking. More than 110,000 eating and drinking establishments in the United States closed for business—temporarily or permanently—last year, with nearly 2.5 million jobs erased from pre-pandemic levels, according to the National Restaurant Association. And restaurant and foodservice industry sales fell by $240 billion in 2020 from an expected level of $899 billion.  So far with vaccines there may be an end in sight but we have not crossed the finish line yet. As restaurants and bars resume and continue operations in some areas of the United States, CDC offers the following considerations for ways in which operators can reduce risk for employees, customers, and communities and slow the spread of COVID-19. Restaurants and bars can determine, in collaboration with state, local, and territorial health offices, whether and how to implement these considerations, making adjustments to meet the needs and circumstances of the local community. The CDC has included four levels of risk in restaurants and bars they read as follows: 
Lowest

Risk: Food service limited to drive-through, delivery, take-out,  and curb-side pick up.

More Risk: Drive-through, delivery, take-out, and curb-side pick up emphasized. On-site dining limited to outdoor seating. Seating capacity reduced to allow tables to be spaced at least 6 feet apart.

Higher Risk: On-site dining with indoor seating capacity reduced to allow tables to be spaced at least 6 feet apart. And/or on-site dining with outdoor seating, but tables not spaced at least six feet apart.

Highest Risk: On-site dining with indoor seating. Seating capacity not reduced and tables not spaced at least 6 feet apart.
Obviously different establishments have mixed and matched with the different risk levels but there still needs to be change in the system. 
All in all, All things considered,  change has been implemented at different points and what not but there is still a gaping hole in the business. With risk charts like the one above from the CDC it is hard for restaurants to consider a more normal dining environment, of course the rules are just keeping everyone safe but people still need to keep their businesses afloat during Covid.  With all of these factors combined there is really only one way to save restaurants and that would be to "stop Covid"…… however that is not exactly possible. But this article has mentioned many ways that you can help, s is urged to do everything they can to help.  And yes Covid-19 took the world by storm but it is time to start pushing back.