Middle School Basketball At Its Best, Ridgewood Hoops Club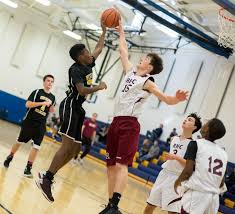 Ridgewood Hoops Club (RHC) is a nonprofit organization established in 2003. It is a Basketball Program that teaches young players how to play and love the sport. Three men, Peter Thomas, Tim Daly, and John Lettieri, created RHC in 2003 off of another old program, called the Basketball Association of Ridgewood (BAR). The three men took over BAR and created the RHC known today.
Basketball Association Of Ridgewood was a Ridgewood team back in the mid-1990s and changed into what it is known as today. Coach Thomas was a coach for the BAR starting in 1995 and kept coaching when the BAR was turned into RHC. One of the founders of RHC, Thomas now coaches many teams in the current RHC program. He is also a hedge fund manager.
The Bolt was able to interview coach Thomas about his coaching career and about RHC. How was Coach Thomas drawn to coaching? "My inspiration was I loved basketball and there were people when I was growing up that made me a basketball player and made me want to play basketball." He played basketball from the time he was little up until the present when he plays for various leagues. When asked if his past players have made any really good Basketball players, "Yes, there have been a number of my players in high school and college but my goal is whatever level you want to be at whether you want to play high school or college, or if you want to be in the NBA I will teach you basketball because it's a lifelong sport." This makes it clear that coach Thomas is a very good coach and that he is one of the reasons why RHC is one of the most popular Ridgewood Travel basketball teams for players of many ages.
Players enjoy RHC because they can learn valuable lessons from coach Thomas. People also enjoy RHC because it allows kids to build chemistry with kids from their own town and friends that can transfer over to the high school. RHC is also perfect for new players since the main focus of the program is player development. RHC is a great program because it can develop young players and provides a platform for older players to spring off into high school and wherever they want to go with Basketball.
In conclusion, Ridgewood Hoops Club is a great program and is one of the best Travel Basketball Programs in Ridgewood. It is popular among middle school kids, it has made some very good players, it has a strong history of excellence, and it has great coaching. These aspects are why Ridgewood Hoops Club is one of the most popular options for a Ridgewood basketball travel team.