Best Pizza In Ridgewood?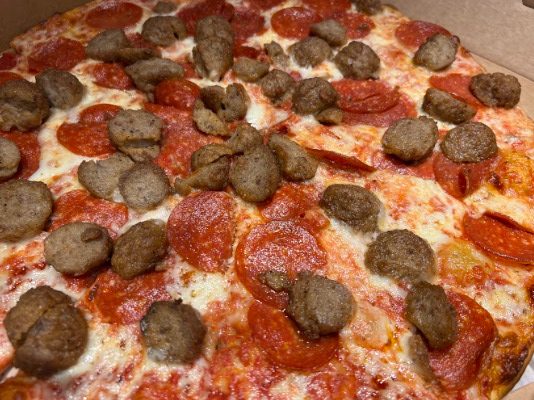 What's the best pizza place in ridgewood? Renato's, La Bella's and Santoni's might be some of the popular ones here in ridgewood. Have you ever wondered which one is the best though? This article will tell you all the goods and bads about each one of these places.
Renato's had really good seating inside. The tables were all clean and there were napkins and other things like salt and cheese on the table.They were nice but it wasn't anything crazy. All of their drinks were bottled in a cooler. Their pizza wasn't the best. The crust was really thin and it just flopped over when you held it. It did not have much sauce.
The Pizza was just lacking flavor and overall it just wasn't that good. It's like they forgot to put the spices on it. The chicken barbeque wasn't too good either. The cheese also just fell off the pizza when you tried to cut it. If you have a large group of friends or something and you want to get pizza with them, Renato's is probably best for this. Renato's had plenty of items on their menu. They had about 15 pizzas and the option for extra toppings as well as calzones and heroes. They also had a large variety of pasta. One 16" plain pizza will cost you $16.00.
La Bella Pizza was good. The owner and workers were very kind. There were limited seating options but everything was clean. There were no napkins or spices on the table but they were on a small table to the side. All of their drinks were bottled in a cooler. The pizza was great. It was the perfect cheese/sauce ratio and it was nice and the crust was nice and crispy on the outside but soft on the inside. The cheese stayed on the Pizza and the cheese was really good.
The Pizza had a lot of flavor and everything was just really good. The barbeque chicken pizza was also great with the perfect amount of chicken and barbeque.  They had really good pizza and I'm guessing that they would be good for take out because their pizza was really good but their seating was pretty limited. Their menu had 16 different types of pizza. They also had calzones and hot and cold sandwiches. There was a large variety of pasta. There was a large selection of appetizers including chicken tenders which would be perfect for a small child. One plain 16" pizza costs $15.00.
Santoni's was fine. The people there were kind but they felt rushed. There were a lot of workers there too. The seating options are fine. There were more than La Bella's but less than Renato's. The tables had some crumbs on them and there was a napkin holder but it had no napkins in it. The Pizza was good though. The barbecue chicken had lots of chicken on it which made it good.
Everything about the pizza was pretty good. The cheese/sauce ratio was also perfect and the pizza was pretty good. It was a lot like La Bella's. The outside of the crust was crispy and the inside was good and soft. The cheese stayed on the pizza. The only thing about this pizza was that it was kind of oily. It was a fair amount of oil and not overwhelming but it did drip off the pizza a little bit. Santoni's had 26 different pizza options, they also had calzones, hot subs and cold subs. There was pasta and the appetizer option had many things as well. Their pizza was the cheapest at just $14.95 for a 16" plain pie.
Overall if you put everything into consideration La Bella's pizza wins. They have the best tasting pizza and the most on the menu. Their seating wasn't as good as the other places. The great pizza makes up for that. Their price is also pretty fair. Santoni's was also very good. Although it was good It just wasn't very clean and their  menu didn't have as much as La Bella's which puts it in a close second.  Surprisingly Renato's cam in last place. It was very clean and the seating was good but the pizza was not good at all. The other restaurants were much better.