Juice Wrld's Death; Why All the Questions?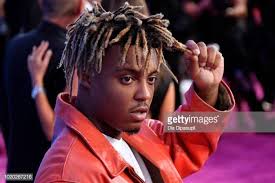 Gia Liu, Sofia Lanzisera, and Julie Kye
January 10, 2020
After Juice Wrld's surprising death on December 8th, many conspiracies have arisen about said death. Social media is filled with conspiracy theories and ideas coming from fans of the rapper. Juice Wrld's body has gone through an autopsy proving he is actually dead, however, many people still strongly believe he is alive. His ultimate motive was to increase his fame and become larger than life. These theories rise from fans contradicting and questioning everything that happened leading to Juice Wrld's death. The death of this rising artist has attracted many eyes with people feeling sadness for his tragic death. So why do people think he's alive? 
Jarad Anthony Higgins, also known as Juice Wrld was an aspiring 21 year old rapper, singer, and songwriter who was rising as a popular artist. He was born and raised in Chicago, Illinois. Some of his most popular songs include "Lucid Dreams", "Moonlight", and "Hate Me". Through these songs, he has progressively been on the rise as one of the most popular artists mainly towards teens and young adults. He expressed his pain and hardships through his deep lyrics which enchanted many audiences. Digging deeper into the lyrics of his hits, fans were able to connect with his feelings and deepest thoughts which he worked to share with others. Juice Wrld used his music to provide a way of gathering for himself and his fans where he could express his emotions and help others do so as well. 
Juice Wrld recently died at the young age of 21 years in a Chicago airport on December 8, 2019. He passed away from a sudden seizure in the airport which caused him to lose his life, the young rapper was later found to have died due to a drug overdose. He was carrying large amounts of illegal drugs, such as marijuana and firearms on his private flight. In an article called, Juice World 'took unknown pills' on flight before fatal seizure as '70 lbs of marijuana' confiscated from private jet, it says, "In addition to this, the FBI confiscated 70 pounds of marijuana from suitcases that were on the flight – with pictures showing drugs in the luggage. 
Two men on the flight, Chris Long and Henry Dean, were arrested for possession of handguns, with Long released on a $1,500 bail and Dean released without bail." Long before his death, it had been known among Juice Wrld fans and spectators that he was someone who took and enjoyed drugs. Juice Wrld was caught by law officials waiting for his landing. He had been on his way to the Bahamas from his home in California when he instead flew to a big Chicago airport. 
Individuals have been questioning Juice Wrld's death due to the suspicion of the event. Other than his pit stop to Chicago, there were many other questionable factors supporting the confusion of Juice Wrld's death. It has caused many to gasp in astonishment and cry in sadness. 
Juice World's body has gone through an autopsy but despite the evidence of him being dead, which was shared with the world, people continue to choose to create a conspiracy out of his death. There are many aspects of Juice Wrld's death which leads to suspicion of him still being alive. There is evidence that people are holding onto his death just to create a conspiracy theory. 
In the Bahamas, Juice Wrld's planned destination, there have been sightings of him in the Bahamas. This has caused many to believe that Juice Wrld is still out there and may have planned and or faked his death. There are also song lyrics that make Juice Wrld's death seem questionable where he sings, "I'm a jealous boy, really feel like John Lennon" In the past, John Lennon died on December 8th, which is the date of Juice Wrld's death as well. Another example is "They tell me I'ma be a legend/I don't want that title now/'Cause all the legends seem to die out." 
In the end, he did die, and to many of his fans, he was a legend. Juice Wrld once also posted on twitter, "My goal is to get overly famous, shine for a couple years… then fake my death." There have been multiple suspicious factors contributing towards the fact that Juice Wrld's death doesn't fully make sense. Juice Wrld's motive for faking his death may have been his desire for fame and popularity, but an autopsy has been performed and he has been proved to be dead. Even though all evidence points towards his death being true, some fans continue to see Juice Wrld's death as a conspiracy. The amount of questionable events in this situation has led people to the depths of denial and paranoia. 
Despite many believing Juice Wrld's death, some choose to turn to the conspiracy theory that he may still be alive to deal with the pain of his sudden death. He died at age 21 when he had just started to become a famous rapper, singer, and songwriter. As his popularity increased, more people joined his fandom while he exposed himself more to the world. The conspiracy theory of him being alive started to gain power and acknowledgment as more people believed in the suspicion surrounding his death. The grief that comes with the death of your favorite artist is a time in which melancholy can overcome you for a while. What are your thoughts on the young rapper's unexpected death?